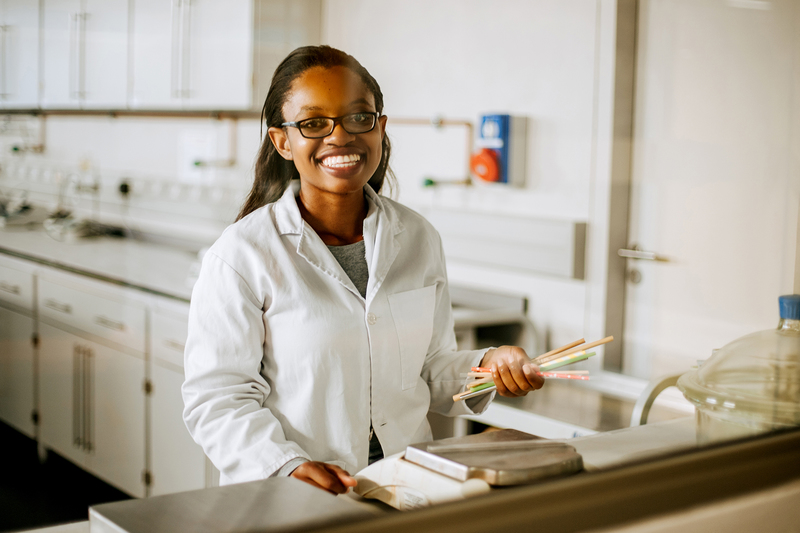 PhD candidate Takunda Chitaka has been investigating exactly what is being washed up on Cape Town's beaches, from straws and sweet wrappers to bottle lids and cotton bud sticks.


Takunda Chitaka – a PhD candidate in the Department of Chemical Engineering at the University of Cape Town (UCT) – has been assiduously combing five Cape Town beaches for litter. Her goal: to better understand the likelihood of plastic goods becoming pollution. For this work, Chitaka recently became one of 10 emerging scientists to receive the Blue Charter fellowship from The Association of Commonwealth Universities and became the first recipient of the Excellence in Academia PETCO Award.

The award – established by PETCO, a South African organisation specialising in the recycling of PET (polyethylene terephthalate) plastic – recognises the importance of peer-reviewed research to underpin strategic interventions in recycling, minimising waste and sustainability. Chitaka, who was nominated by her supervisor, Professor Harro von Blottnitz, received the award for research she has been working on since 2016.
Litter is typically not included in the lifecycle assessments of plastic products, as the final ecological damage it causes is hard to quantify.

Chitaka has been gaining an understanding of marine plastic waste based on empirical evidence, which was something she found lacking in discussions about potential solutions. To add more science to the discussion, she's been using beach surveys to estimate the amount of litter that flows into the marine environment – and to figure out where it comes from.

The research forms part of Chitaka's PhD thesis, which argues that litter should be included in the lifecycle management of plastic products. Lifecycle management is a business adoption of lifecycle assessment, a well-accepted and widely used method – that uses a 'cradle-to-grave' approach – for holistically describing a product's environmental impact. Surprisingly, though, litter is typically not included in the lifecycle assessments of plastic products, as the final ecological damage it causes is hard to quantify.

The idea for her thesis was conceptualised by von Blottnitz and defined by Chitaka at the end of 2015, pre-empting the recent global attention paid to plastic pollution.

Unpacking plastic pollution
Chitaka has made it her academic mission to go back to basics and unpack the plastic pollution problem through a detailed look at the types of litter that tend to accumulate on beaches. She argues that if we want to deal with this issue successfully, we need to move away from generalisations and commit to specifics.


Takunda Chitaka discusses her research and her belief in evidence-based decision-making.


"One of the things you notice about the available lists of the most common forms of plastic pollution out there is that they aren't detailed," Chitaka says. "They might list plastic bottles. But what types of plastic bottles? What purpose did they serve?

"You need to identify their function to understand why they're contributing to the problem."

Using the example of a margarine tub, Chitaka raises a few poignant questions.

"Where do you use a margarine tub? At home. Do you throw it away afterwards? No, it would probably be reused a couple of times. What, then, are the chances of it ending up in the ocean? Close to zero. Especially if your household is served by a decent waste collection and disposal scheme.

"So, would changing the packaging for margarine to something other than plastic make sense? Probably not."

Grounded approach
Chitaka's research goes well beyond hypothetical questions, though, and is based on rigorous surveys of litter on beaches in Cape Town. She focused her efforts on five beaches in and around the city: Hout Bay, Milnerton, Muizenberg, Paarden Island and Wolfgat Nature Reserve.

These surveys entailed Chitaka picking up all the litter – not just the plastic – on a 100-metre stretch of beach and returning at the same time to do it again for the next few days. Every day, she transported the litter she collected back to UCT where she cleaned, counted and weighed it in the laboratory.

Sometimes with the help of assistants, Chitaka repeated this process for between five and 10 days at each beach during two periods: winter and spring of 2017 and summer of 2018/2019.

These surveys entailed Chitaka picking up all the litter – not just the plastic – on a 100-metre stretch of beach and returning at the same time to do it again for the next few days.

By doing this, Chitaka could capture everything washed up within 24 hours. This she used to estimate the plastic wash-up rate, and ultimately, how quickly litter flows into the marine environment.

During the first part of her study, she collected more than 36 000 items (weighing almost 53 kilograms). These she divided into 372 types, across 10 materials – one of which was plastic – and 19 uses, including food packaging, household, medical and toys.

Chitaka found that the rates at which litter accumulated on the beaches she surveyed varied drastically. Muizenberg beach yielded an average of 36 pieces of plastic litter per day whereas Paarden Eiland yielded close to 3 000 pieces during the same timeframe.

Unsurprisingly, plastic was the dominant material she collected; overall, it accounted for up to 98% of all the litter pieces and up to 83% by weight. Among the plastic litter, food and drinks items were the most prevalent. Most of these were packaging for foodstuff commonly consumed on the go.

Based on her research, Chitaka was able to identify the 10 most prevalent items (alphabetically):
Beverage bottle lids
Biscuit wrappers
Cotton bud sticks
Lollipop sticks
Lollipop wrappers
Polystyrene clamshells (of the sort you might be served a take-away burger in)
Polystyrene cups
Single sweet wrappers
Snack packets
Straws


Interestingly, Chitaka found very few locally recyclable items, such as glass and plastic bottles, which may point to the benefit of recycling initiatives in South Africa.


"South Africa has great recycling infrastructure and we're going from strength to strength – we're looking at 63% [PET] bottle recycling," Chitaka points out.

Litter in lifecycle management
By unpacking litter rates and quantifying its flow, Chitaka's study could indeed become a valuable resource for the future of packaging design in South Africa.

"Takunda has produced some very detailed quantitative information as to what is on our beaches, von Blottnitz says. "Whether such new evidence is of use or not to decision-makers remains to be seen when she submits her thesis."

"It's a quantification thing," she says. "Let's put numbers behind this conversation, so that when we're making decisions, we're not vilifying all plastic."

Chitaka TY & von Blottnitz H (2019) Accumulation and characteristics of plastic debris along five beaches in Cape Town. Marine Pollution Bulletin 138: 451–457. doi.org/10.1016/j.marpolbul.2018.11.065




This Article was reproduced with the permission of the University of Cape Town and the original article can be viewed here: https://www.news.uct.ac.za/article/embed/js/-2019-08-22-award-winning-plastic-pollution-research
STORY NADIA KRIGE. PHOTO CANDICE LOWIN.